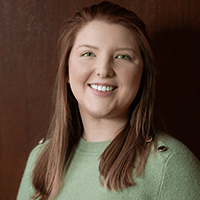 Operations Support Specialist
Texas Life and Health Insurance Licensed
Ashley@capstarfinancial.com
Ashley Woodside joined CapStar Financial from Michigan, and as she likes to say, she's a "Michigander".
She graduated from Ferris State University with a Bachelor's degree in applied mathematics, so it's only fitting Ashley is in our operations department working with numbers and spreadsheets. Her background is as a banking funding analyst, so retirement analysis, spreadsheets, detailed form-filling are all in Ashley's wheelhouse at Capstar.
Ashley works closely with Barbara Johnson in our operations department and there are no boxes she puts herself in. She supports our money movement processes, completes all product forms, account openings and has a passion and willingness to learn whatever comes her way.
With her free time, you'll find Ashley playing with her new Huskey pup, "Indie", which is short for Indigo as her eyes are a brilliant blue. Spending time with friends and exploring Austin are also pastimes Ashley enjoys.