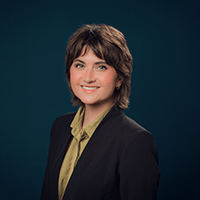 Investment Advisor Representative
Series 65 Licensed, Fiduciary Dually Licensed
Rachel@capstarfinancial.com
Rachel Neblett officially joined the CapStar team in 2020, but, as Suzette's daughter, she's grown up in and around the financial services industry. After graduating from the University of West Florida with a Bachelor of Science in Business Administration majoring in Finance and completing her four years competing on their volleyball team (Go Argos!), Rachel spent six months doing mission work overseas in Australia and Southeast Asia.
Both Series 65 and Texas Life and Health Insurance Licensed, Rachel works hand-in-hand with Suzette on investment strategy and overall financial wellness. She is also CapStar's Medicare and Social Security specialist.
Rachel loves people and instantly connects with anyone who comes into the office. She has a passion for figuring things out, helping families live out their dreams, and providing solutions no matter what life has in store.
In her free time, you can catch Rachel curled up with a good book, reliving her glory days by playing volleyball with friends, or working on her latest embroidery or cross-stitching project.
For help navigating Medicare and Social Security, click below.