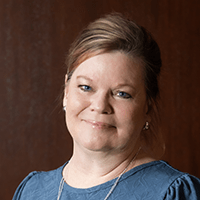 Event & Marketing Manager
Tammy@capstarfinancial.com
Tammy Moore is Capstar Financial's longest tenured employee, having been with Suzette Porter for over 11 years. Tammy has nearly 40 years working in marketing and event planning. Tammy works with CapStar Financial's clients and the surrounding community in outreach, events and sponsorships, as well as with the firm's digital and traditional marketing needs.
You'll find the outreach from Capstar Financial through Tammy's efforts in article send-outs, client speaker events, continuing education, and all of the firm's work at Concordia University and other workshop locations, educating Central Texans on important retirement topics which include life planning, income planning, investment strategies and healthcare. Tammy is also the firm's liaison with our partnering attorneys and tax accountants for estate planning strategies and tax planning strategies.
Tammy's free time consists of her gardening, cooking and needle work. You'll also find her at most of Texas A&M's sporting events with football, basketball and baseball – wherever the seasons take her.